Checking
Maximum Checking
Interest bearing account with tiered variable rate No monthly maintenance fee No minimum balance to earn interest Automatic nationwide ATM refunds up to $4.99 if you meet the qualifying transactions* Unlimited check writing $100 opening minimum deposit No charge for online banking, 24-Hr telephone banking
Qualifying transactions must post and clear the Maximum Checking account during the statement cycle.
Make 12 Mastercard debit purchases Direct Deposit or ACH Debit Receive E-Statements

*ATM fees of $5.00 or higher will be reimbursed if the appropriate ATM receipt is presented to a representative at one of the branches.


Your Choice Money Market Account
$2,000 minimum opening deposit Interest Bearing account with tiered variable rate Limited Transactions - An excess money market transaction fee of $5.00 will be charged for checks paid in excess of 3 during a statement cycle and for debit transactions (withdrawals, automatic transfer or payment out of this account) in excess of 6 during a statement cycle. $12.00 Monthly Maintenance Fee if daily balance falls below $2,000


Passbook Savings
$50 minimum opening deposit Variable interest rate A debit item fee of $1.50 will be charged for each debit transaction in excess of two(2) per quarter $4.50 quarterly maintenance fee if the daily balance falls below $300.


First Time Savings
Under 18 Years of age $5.00 minimum opening deposit Variable interest rate Unlimited deposits No quarterly maintenance fee A debit item fee of $1.50 will be charged for each debit transaction in excess of two (2) per quarter


FSB Christmas Club Savings
$5.00 minimum opening deposit Variable interest rate Unlimited deposits No quarterly maintenance fee

You are not permitted to make any withdrawals from this account prior to November 1st. If we consent to a withdrawal from this account prior to November 1, a $25 early withdrawal fee will apply.


Health Savings
A Health Savings Account (HSA) in conjunction with a High Deductible Health Plan (HDHP) is a new way to lower your health care costs. It's a tax advantage account that can be used to pay for the day-to-day eligible medical expenses. Your HSA is also an excellent way to save for retirement as the money in your account continues to grow tax free, year after year.

$100 minimum opening deposit Tiered variable interest rate No monthly maintenance fee


Certificates of Deposit / IRA's
Minimum initial deposit is $500 Variety of terms on fixed market rate. Interest paid monthly, quarterly or at maturity of certificate. Penalty for early withdrawal.


Overdraft Privilege
What is Overdraft Privilege?

Checking account mistakes happen, we're all human. To help protect our customer's from Merchant fees and the embarrassment of having a check returned or a debit card purchase overdraw your account, we offer the additional benefit of Overdraft Privilege. When Overdraft Privilege is used, the overdraft fee of $35 will be imposed for overdrafts created by checks, ACH transactions, online bill items, teller window transactions, teller and internet banking transactions and recurring debit card transactions. A $35 fee will be charged for each one-time POS & ATM transaction(s) if you opt in to extended coverage. This is the same fee that First Southern Bank charges for items returned to the payee due to insufficient funds. If an item is returned because the available balance in your account is not sufficient to cover the item and the item is presented for payment again, First Southern Bank will charge a return item fee each time it returns the item because it exceeds the available balance in your account. If, on representment of the item, the available balance in your account is sufficient to cover the item First Southern Bank may pay the item, and, if payment causes an overdraft, charge an overdraft fee. Overdraft Privilege is not a line of credit; it is a discretionary overdraft service that can be withdrawn at any time without prior notice. You must deposit the full amount of the overdraft within 32 consecutive calendar days, including any fees assessed, and maintain a positive balance for at least one business day to continue to receive the full Overdraft Privilege limit.

Click Here to learn more, or >Here to find more of what you need to know.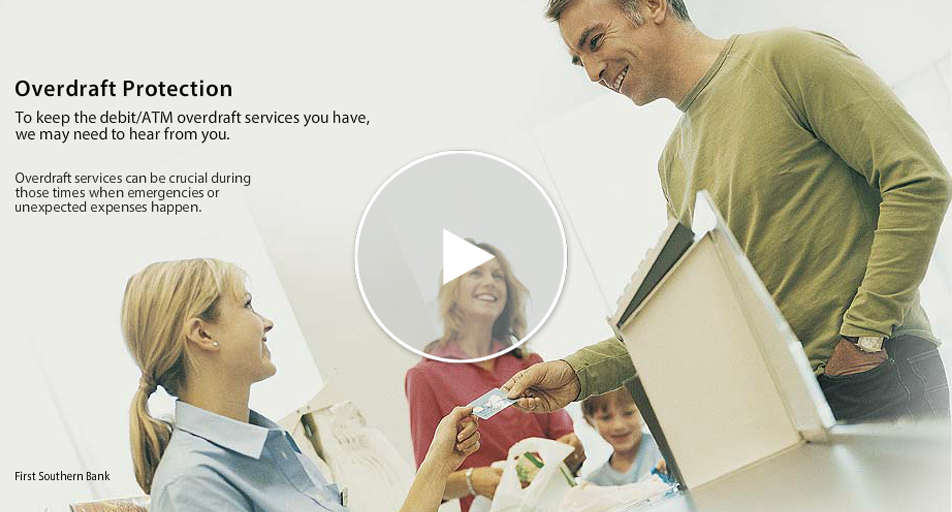 Personal Loan Products
Consumer Loans
Whether you're borrowing money for a car, boat, RV, or any other personal item it's important to consider your options. First Southern Bank offers a variety of options for financing at competitive rates.

Types of Loans Available:
Personal Consumer Loans Personal Lines of Credit New and Used Auto Loans Boat, Motor, Trailer Loans RV Loans Mortgage Loans Construction Loans Home Equity Loans

More information on any of these products can be obtained through our Loan Officers


Personal Lines of Credit
A First Southern Bank Personal Line of Credit will help you plan ahead for unexpected expenses, as well as protecting your checking account from potential overdrafts. Transactions that exceed the balance in your checking account balance automatically access the availability on your line of credit. Contact your local loan officer to discuss how a Personal Line of Credit can benefit you.


Construction Loans
At First Southern Bank, we want to turn your dream house into a reality. Whether you are building a new home, adding on to your existing house or remodeling, we are ready to help. Our construction loan is a convenient and effective way to manage the cost of your project. Stop by your local branch and talk with our loan officer.


Mortgage Loans
First Southern Bank has access to all mortgage loan programs. Let us help you find the program that fits your situation perfectly.  Whether USDA, FHA, VA or conventional, our mortgage specialists will walk you through the process to purchase or refinance your real estate. Our rates and fees are competitive and our service will exceed your expectations. Contact your local branch to schedule an appointment today.

Home Loan Toolkit

This toolkit provides a step-by-step guide to help consumers understand the nature and costs of real estate settlement services, define what affordable means to them, and find their best mortgage. The toolkit features interactive worksheets and checklists, conversation starters for discussions between consumers and lenders, and research tips to help consumers seek out and find important information.

NMLS Number List


Mobile Home Loans
We finance mobile home loans with land or with share interests within a park community.  Stop by a branch and talk with our experienced loan officers.


Home Equity Loans
Let First Southern Bank turn your equity into availability. Whether you are doing an addition or remodeling your house, consolidating your personal bills or purchasing that item you have always wanted, a Home Equity Line of Credit is a convenient way to fund it. As a bonus, the interest that you pay on your Home Equity Line may be deductible (contact your tax advisor). Contact your loan officer to discuss the details.


CD Secured
A CD secured loan is a great solution for those who want to establish a credit history or in need of credit repair. Terms vary and the interest rate is competitive.